As many of you know, there is an upcoming spin off for Arrow and The Flash. Originally tentatively called "The Atom", Andrew Kreisberg shot down those rumors, though we would be getting the official title soon.
Many of you may of also known that Ciara Renée posted a picture of a sign saying "The Flash welcomes Kendra Saunders", though it was quickly confirmed that she wouldn't be in the season finale of The Flash.
She may not be in the season finale of The Flash BUT they are beginning filming for the spinoff starting Saturday April 11!
YVRShoots has re-tweeted a photo of filming notice: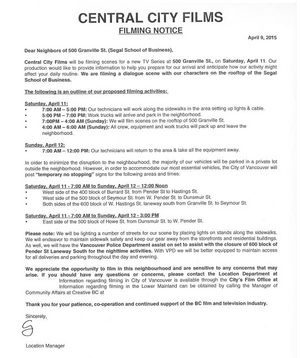 It appears they will use the same production crew as The Flash, "Central City Films".
As they're beginning production, we should be getting more news soon!