For a long time, the mystery of who Promtheus is has been one of the biggest mysteries the fandom has ever wondered. To wit, after careful analysis, I have the idea who it is and the motives! Let's begin.
Savitar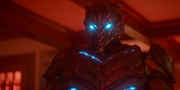 SAVITAR is the first being to have super speed, and is also most likely someone who needed bows and arrows. Knowing of how Oliver has helped Barry defeat many powerful threats, he decided to use his skills to defeat Oliver, while also pretending to be normal to draw no suspicion of his true identity.
Donna Smoak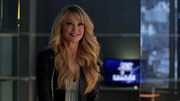 After the relationship between Felicity and Oliver was torn over, she declared herself enemy of the Queen line ever since. She has made herself an enemy of Oliver by gaining skills with a bow. Note she left to draw no suspicion, and she went after Lance first, most likely cause of their past relationship, fearing he would out her. Also, she disapproves of Felicity's boyfriend, so she had him killed.
Sin
Now let me explain this. Sin wants revenge because she blames the Arrow gang for killing Sara and not avenging her. Not knowing of Sara being alive, she left the show to throw off suspicion and also she named herself Prometheus to hide the fact that her real name, Sin, is obviously a reference to the acts she has done.
King Shark
Now you all may be saying the obvious... King Shark doesn't know how to use a bow and arrow. Well he learned it during his time in ARGUS, and obviously broke out. Too afraid to admit her flaw, Lyla didn't let anyone know he escaped. He hates Oliver because he hates both Diggle and Barry, and wants them to suffer.
Eddie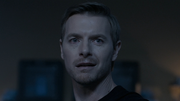 Eddie is obviously the guy. He is brought back to lifted through flashpoint, and has memories of being beaten. But do to history being affected, he believes the Green arrow beat him. So he wants revenge for his horrible assult, but finally getting revenge on a man who never beat him.
Lily Stein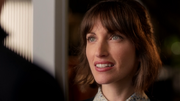 Notice who came in WHILE Prometheus came around? Duh, Lily was born! She blames Ollie for making her dad gay for some random ex Highschool football player because he was friends with a certain Ray and Sara, making Stein join the legends. She has also used her flashpoint abilities to learn how to use bow and arrows.
Iris West
Let me explain. Iris is in love with Oliver, and is using Barry to make him jealous. When that didn't work, she decided to become a yandere. She wants to make Oliver depressed so she can have him all by herself. I admit, the idea is strange, but Flashpoint has changed her personality to become a dark reflection of her old self.
Grant Wilson
Obviously, the man who has beaten Oliver Queen and everyone he loves is also the man who is Prometheus. He does blame Oliver for taking down his father, and thus wants to avenge said father. Also, he is young, so that's why he is using stilts. He also copied Oliver like Olover copied his father.
Kara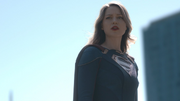 Too copy the insanity of Superman, Supergirl has become the enemy of Oliver Queen. Everyone knows Kara is a devil when behind that sweet smile, and she fears Ollie will crack the secret, being the world's greatest detective. So Kara is posing as an archer to kill him.
Earth-2 Oliver Queen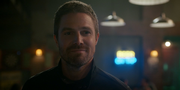 This one is just obvious. He wants to be a hero, so he shall replace the hero. He is, the douche arrow!