Just yesterday on the Arrow panel of Comic-Con, they debuted an absolutely stunning trailer for the new season of Arrow', check it out: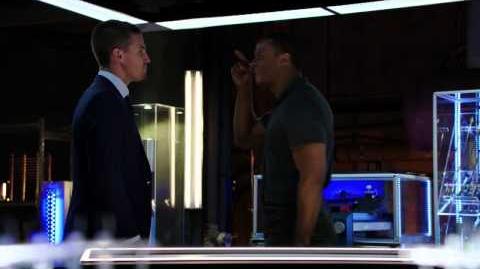 The promo started with a general summary of seasons 1 and 2, and generally Oliver's transformation from vengeance to heroics, which the third season will seemingly focus a large amount on. For those that either can't watch the trailer or are just lazy, here's a recap of what followed, it includes quite a bit of great content:
"A man can not live by two names" - Maseo Yamashiro, Oliver's new handler in the flashbacks, speaks to him in what may be the season premiere.
Oliver gives a speech to a group of people in Queen Consolidated - possibly a board of directors deciding whether he should run the company?
Laurel remarks about Oliver and her now being business partners.
A new bidder for Queen Consolidated, Ray Palmer, makes a fast entrance - BRANDON ROUTH!!!! Surely I'm not the only one super pumped for his arrival!
Oliver requests that Diggle no longer work in the field (presumably due to impending parental commitments) and Dig gets angry at the mere thought of Oliver ditching him.
Werner Zytle, aka Vertigo (guest star Peter Stormare), the new supplier of the Vertigo drug, notes how Oliver seems to continuously survive great odds.
Sara makes her return to Starling after she left in the last season finale.
Sara encourages Oliver to pursue a normal life, leading to....
"Felicity, would you like to go out to dinner with me?" OLICITY CONFIRMED
At dinner, the two chat about Oliver's time away from Lian Yu, flashing back to Oliver running, fighting and being generally menacing to Amanda Waller.
"And you should know it's extremely easy to kill someone the world thinks is already dead." I think I'm loving Waller more and more!
A montage of scenes, including Roy fully suited up in his getup we saw the other day, a near-bald Captain Lance, Clark Kent Ray Palmer suggesting "Star City" and a dirty Oliver leaning over a bloodied-up, unconscious Felicity.
"You have failed this CITY" *smacks camera*

I'm feeling like a little kid on Christmas right about now! Any bits you guys find interesting?
UPDATE: A slightly longer promo has been released featuring a suspenseful clip introducing season 3's new Big Bad, which can be read here!