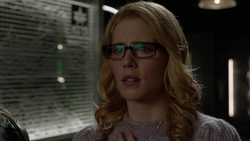 So now that we've the newest trailer, DEATHSTROKE!!!, sorry had to say it, which looks f***ing epic the one downside is the impending return of Olicity. Yea apparently the producers didn't learn their lesson last season. Or did they? It's been confirmed by the producers that the Olicity scenes in the trailer are shown are only in flashbacks but if Olicity really isn't coming back then what's the point? There are two possibilities. Either Felicity's swan song approaches, f*** I hope so, and the flashbacks are to showcase her defining character arc. Or the flashbacks are hinting towards Oliver and Felicity getting back together by the finale in which case if it does, they can throw Deathstroke, Black Siren or any Arrowverse character they want in it but I will not be partaking in Season 6 if it happens. 
Outcome 1: Felicity dies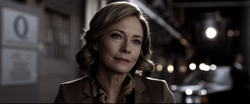 Characters who aren't Oliver who have flashbacks revolve around them and particularly an important aspect of their characters usually tend to die in that episode or the following one. Moira's death episode in 2x20 showed a woman with questionable morality give her life for her children. During the episode it also showcased flashbacks revolved around Moira when Oliver got Samantha pregnant. Rather than have Oliver be stuck with the burden of parenthood at such a young age and endanger his relationship with Laurel, Moira paid Samantha to move away so she could raise the child without Oliver. This brought the character full circle and show that despite her ruthlessness her defining trait was truly her love for her children so much that she gave her life for them.
Similarly Deadshot's death episode in 3x16 showcased his own past with his wife and daughter and how he became the assassin who killed Diggle's brother, as far as we were aware at the time, make a hero's sacrifice that saved many lives. Furthermore Laurel's funeral episode in 4x19, as f***ed as it was, showcased her and Oliver in flashbacks which to me honestly despite all the Olicity crap going on at the time really did prove that Laurel was the true love of Oliver's life. All of these to me indicate that they are featuring Olicity in the flashbacks to showcase Felicity's defining character arc, how loving Oliver changed her life (and yes I feel sick just writing that), but Prometheus is going to twist this and kill her to prove to Oliver that his life infects others and will truly make Oliver wish he was dead.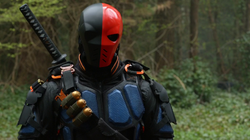 Also Emily Bett Rickards (Felicity) and Echo Kellum (Curtis) are the sole main cast members besides Josh Segarra (Adrian) that haven't yet been confirmed to be returning, and I don't think Curtis' death would have that much impact yet. While Guggie has said he has "big plans" for Felicity that doesn't mean she'll be alive and it could be referring to Oliver and Team Arrow struggling to move on from her death because despite her character's unbearable nature, it would be difficult because of her computer skills. It has also apparently been confirmed that Felicity is on the island in the finale it could be hallucinations or she'll still die because of the flashbacks featured in the episodes coming up. Laurel died in 4x18 and flashbacks tied up her story, well as much as it can considering it was a stupid choice regardless, in 4x19. Also the fact that Deathstroke is coming back and "made a promise" to Oliver and the fact that he mentioned the "girl with the glasses" back in 3x14 indicates that if Slade ever gets the chance, Felicity is the first one he'll kill. This would also be poetic considering if he had just killed her in 2x23 as he wanted to things could have been so different. 
Outcome 2: Olicity returns
Alternatively they could be featuring Olicity in the flashbacks because it is slowly hinting towards it returning in the present day and by the finale Oliver and Felicity will "realize their feelings" and get back together, and next season will have them being together yet again but this time with no regrets because they know they "love each other". Again this is a possibility because there is still the chance that Guggie just won't realize how little value his prized creation holds these days, and may not have realized his mistakes from the last two seasons. Then again I do have to give him credit for how he's done this season so far. I was genuinely expecting it to be utter s*** so let's hope he doesn't slip back into hold habits.