Tommy Merlyn
Talk

0
783pages on
this wiki
"You didn't let me die, Ollie. You fought to save me. Because that's what you do. What you have always done. You fight to survive. I know I called you a murderer, but you are not. You are a hero. You beat the island. You beat my father. So fight, Oliver. Get up and fight back. (as a hallucination)"
—Three Ghosts

Thomas "Tommy" Merlyn (c. February[1] 1985—May 15, 2013[2]) was the son of Malcolm Merlyn and the late Rebecca, a 28 year old former billionaire "trustafarian", the best friend of Oliver Queen, the ex-boyfriend of Laurel Lance, and the former crush and the paternal older half-brother of Thea Queen. He was killed in "Sacrifice", while he was saving Laurel's life.
Biography
Edit
In "Pilot", when Oliver returns to Starling City, Tommy believes the good times will roll again; however, he is greatly mistaken as Oliver is a changed man. In Oliver's absence, he formed an on-again, off-again relationship with Oliver's ex-girlfriend, Laurel Lance.
In "Honor Thy Father",
In "Lone Gunmen",
In "Damaged",
In "Legacies",
In "Muse of Fire", He confronts his father about why his trust fund was shut off. Malcolm replies by stating he cannot use his money reasonably and that he needs to get a job.
In "Vendetta",
In "Year's End", We learn his mother was killed in 1992, leading to him and his father to have a very strained relationship, because after his mother was murdered, his father left him for two years to train as the Dark Archer.
In "Burned",
In "Trust but Verify",
In "Vertigo",
In "Betrayal",
In "Dead to Rights", Tommy and Oliver's relationship begins to break down. After an assassination attempt by Deadshot on Malcolm Merlyn's life, Oliver reveals himself as The Hood to Tommy so that Tommy will trust him to save Malcolm's life. Although obviously conflicted over Oliver's revelation, Tommy keeps his identity a secret.
In "The Huntress Returns", Their friendship continues to become more strained as Helena Bertinelli's return shows Tommy how dangerous it is to be around Oliver, as well as how far Oliver is willing to go to do what's right. In turn, keeping Oliver's secret is seen to have a knock-on effect on Tommy's relationship with Laurel.
In "Salvation", during the streaming of Roy Harpers capture, Tommy comforts a worried Thea.
In "Unfinished Business", when a girl dies at their club, due to a Vertigo overdose, Detective Quentin Laurel's father finds evidence that implies Tommy supplied her with the drug. Even though he is later cleared, Tommy is outraged to hear that Oliver didn't trust him enough to believe he was innocent. As a result, Tommy quits his job at Verdant, also, terminating their friendship. Tommy then asks his father for a job at Merlyn Global Group, which Malcolm gladly accepts with a hug.
In "Home Invasion", when Laurel's life is threatened, Tommy is forced to admit that Oliver's house is the safest place to be. He asks if they can stay at the Queen Mansion until Laurel is no longer in danger. However, after witnessing how close Oliver and Laurel are, despite Laurel being with him, he realizes that Oliver still loves her. He realizes that despite everything that had happened between them, Laurel would still choose Oliver if she ever found out that he is The Hood. Once she is safely back home, Tommy breaks up with Laurel and moves out without explaining why.
In "The Undertaking", Tommy is seen as unhappy, but is loyal to his father, while also honoring Oliver's secret identity. When Laurel confronts him as to why he broke up with her, he reveals that he believes that her and Oliver are meant to be together, for Oliver still loves her.
In "Darkness on the Edge of Town", Oliver visits Tommy at his office in an attempt to mend broken bridges between them. Oliver convinces Tommy that his decision to break up with Laurel was his own, with Oliver having nothing to do with it, and that he should get back with her. However, when Oliver realizes that if he took down Malcolm then his work as The Hood would be done, he goes to see Laurel and admit his feelings to her. Tommy arrives outside Laurel's apartment at this point and sees Oliver and Laurel together.
In "Sacrifice", Tommy is drinking at Oliver's nightclub and confronts him about his night with Laurel, but Oliver tries to tell Tommy about the Undertaking. Enraged at Oliver's lie about Laurel, Tommy doesn't believe him and wishes that Oliver had died on the island. Tommy later goes to his father Malcolm who confirms to Tommy what he is unwilling to believe from Oliver, that he is going to destroyed the Glades to avenge his wife. Then he plays a recording of Rebecca as she died. Malcolm was, suddenly, shouting to his son how they deserve to die. Later, when Moira confessed Malcolm's plan the police arrived and Malcolm was able to dispatch them easily. Tommy, however, grabbed one of their guns and tried to kill Malcolm with it, but failed and was knocked unconscious. Later, Tommy woke up, when Oliver and John Diggle arrived, to stop Malcolm. Tommy asked if Oliver intended to kill Malcolm, but he told Tommy to go. Once Malcolm was killed the Undertaking proceeded because there were backup earthquake generators. Tommy headed to the CNRI to save Laurel from the rubble of the building during the earthquake, but as Laurel escapes, the building collapses with him still inside. When Oliver arrives at the building, he finds Tommy trapped inside and impaled by a concrete reinforcement bar. Tommy reconciles with Oliver and they become best friends again before dying.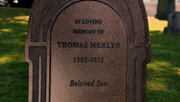 In "City of Heroes", Following his death, Tommy was buried in Starling City, and his tombstone read "In Loving Memory of Thomas Merlyn 1985-2013 Beloved Son".[3]
Tommy's death had many effects on both Oliver and Laurel, for Oliver Tommy's death made him unwilling to ever kill again while Laurel began blaming The Arrow for Tommy's death (as shown in Identity and began a mission to find him and bring him to justice).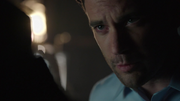 In "Three Ghosts" Oliver hallucinates about Tommy, who tells Oliver that he isn't a killer and that he is a hero, relieving Oliver of his guilt. He also tells that Oliver that he finally understands that he kills because he fought for survival and that is what he has been doing that since he was on the island. He tells him to fight back, which Oliver does and defeats Cyrus Gold stopping his hallucinations. 
Personality
Edit
When Tommy first appears in the series, he comes across as a light-hearted, cheerful, carefree, and laid back individual without a care in the world, due to his financial access being nearly limitless. He tries to get Oliver to rejoin the party scene, picking out girls for him and taking him around town. However, his affection for Laurel was slowly changing him into a more responsible individual.
When his father cut off his trust fund, he became angry, but then became more resolved in his desire to change. He applied himself more in his relationship with Laurel and sought out Oliver to get a job running Verdant. He was bitter towards his father, who he perceives as power and money hungry, and uncaring, especially due to the fact that Malcolm left Tommy for two years after Rebecca Merlyn, Tommy's mother, was killed. Their relationship improves when Tommy attends an award ceremony for Malcolm and after Malcolm was nearly killed by Deadshot.
He was thrown into a sea of confusion when it was revealed to him that Oliver is The Hood. He finds that he has problems trusting Oliver, whom he says he doesn't know anymore, and later quits the night club saying that he has too much self-respect to continue running Oliver's front when his best friend doesn't even trust him. Tommy then went to his father to find work.
It is implied that his later distrust of Oliver partially stemmed from jealousy and anger, as the Oliver he knows now is a far better person than he thought he would be.
In his final moments, he admitted to the inferiority complex he was feeling, reconciled with Oliver, and then passed away.
Appearances
Edit
Season 1

Season 2

Comics

Arrow
Originally, many believed that Tommy would become Green Arrow's enemy from the comics, the "Dark Archer", due to the name similarities. This was until it was revealed in "Year's End" that it was in fact his father, Malcolm Merlyn, who became the Dark Archer.
Tommy Merlyn was the fifth person to discover Oliver Queen's secret identity, The Arrow. He discovered this in "Dead to Rights".
Malcolm mentions that Tommy, as a child, wanted a puppy for Christmas, which he would have called "Arthur", to pair with him being a "Merlyn". This may attribute to how Merlin assisted King Arthur, as well as subtly referencing that Merlyn's real name in the comics is Arthur King.
It was mentioned by Oliver that Tommy once rented an entire football field just so he could play "strip kickball" with a group of ladies.
Tommy is the first and currently only character, within the main cast to die.
In "City of Heroes", his full name is revealed to be Thomas Merlyn.
Tommy appears In "Three Ghosts", as a hallucination to Oliver.
In "State v. Queen". Malcolm revealed that Thea Queen is his daughter, thus making her Tommy's paternal younger half-sister.
References
Edit