Laurel Lance
Talk

0
494pages on
this wiki
For her mother of the same name, see Dinah Lance.
"We don't need to go outside the law ... to find justice."
— Laurel Lance[src]
Dinah "Laurel" Lance (born 1984) is the daughter of Quentin Lance, and Dinah Lance, the older sister of the late Sara Lance, the best friend and girlfriend of Oliver Queen, the ex-girlfriend of the late Tommy Merlyn, and the best friend of Joanna De La Vega. Sometime in the past, Laurel had a romantic relationship with Oliver Queen. until he was unfaithful to her with her sister, Sara Lance. Laurel is part of a group called the City Necessary Resources Initiative, or CNRI, that helps people in need. near the end of Season 1 Laurel and Oliver have rekindled their romantic relationship.
Laurel is a member of the Lance family.
Biography
Edit
Laurel is a lawyer and works for a legal aid office. Five years prior to the pilot, her sister Sara dies in a violent shipwreck which, also strands Oliver on a remote island. After a while she forgives him and they become best friends again. It is also shown that she has been involved with Tommy in the past. In Lone Gunman, they agree to give their relationship a try.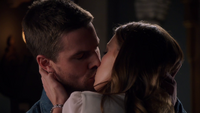 In Damaged, Laurel and Oliver kiss. She admits that she still has feelings for him but makes it clear that nothing can ever happen between them. She argues with her father when she chooses to defend Oliver in his trial. Moira Queen requests her to be Oliver's lawyer on his insistence. She tells her father that he can't blame Oliver for Sara's death or the fact that her mother left them afterwards.
When Thea gets in legal trouble to get her out of a long jail sentence Laurel gets her father to get her a deal, meaning as part of her plea bargain, Thea will work at CNRI.
When she calls Arrow, she unwittingly helps her father track him down and is furious with him as it gets her kidnapped. Arrow saves her, but this cause a break between her and her father. After this, Arrow told her goodbye.
In Dead to Rights her mother shows up and tells her Sara may be alive.
In Salvation
In Home Invasion Tommy breaks up with her after narrowly surviving a attempt to kill Laurel's client son who escaped a Home Invasion which left both of his parents dead. Laurel showed faith in Arrow not harming them especially her and Tommy realizes if she knew Oliver's secret she would pick Oliver over him.
In Darkness on the Edge of Town
In Sacrifice
Personality
Edit
Laurel is hard working and fights hard to get what she wants. She is a great lawyer and lives to stand for the innocent and what is right despite the corruption in Starling City. She can be feisty and doesn't like to be told what to do. Laurel is attracted to troublemakers, as shown when she dated both Oliver and Tommy. She gets annoyed when her father tries to get in the way, always making his opinion of her boyfriends known even though it almost never changes her mind. Laurel is tough and knows how to take care of herself. She takes riskes like contacting Oliver as Arrow, and can't resist saving people from tough situations like when Tommy and Oliver were going to get beat up in the club, to innocent people on trial.
Abilities
Edit
Expert hand-to-hand combatant: Laurel received extensive hand-to-hand combat training. This is because her father made her take self-defense classes.
Expert lawyer and detective: These help Laurel to uses the system of the court to her knowledge. It also makes her look at every aspect before making up her mind and to see the bright side of everyone.
Appearances
Edit
With the insistence of her father, Laurel received extensive hand-to-hand combat training allowing her to defend herself very effectively.
She is very efficient with firearms as she has an gun permit and also has used a rifle to protect herself in "Home Invasion".
Being the daughter of a police detective, she learnt how police badges were serialized.[1]
Dinah Lance is Black Canary in the original comic. She possesses the meta-human ability of a super sonic scream in which she can deploy to shatter objects and incapacitate her opponents, the "Canary Cry"

During San Diego Comic Con 2012, the shows producers said that Laurel will become Black Canary "later than you hope but sooner than you expect".

In "Damaged", when Oliver and Laurel go alone to talk, Laurel mentions to Oliver that she wore fishnets to a Halloween party they attended together in 2005. This is a reference to Laurel's comic book alter ego's costume, Black Canary.
Laurel at first has mixed feelings about arrow, stating that he goes against everything that she was taught but is still doing good. This is evidenced when she in a moment of shock accidentally and impulsively calls him a killer with no remorse but defends him when she's reminded of her statement.
when she sees arrow in "Burned", Oliver tells her that he heard what she said to her father, calling him a killer, with no remorse, she apologizes to arrow for what she said.
However she begins to trust him later, shown in "Betrayal" where she's more frightened by her father charging out with a gun than with arrow for holding a blade to her neck.
Laurel is mentioned to be a bad cook, with the only thing she is actually capable of making is macaroni and cheese.
She mentions her sister owning a canary, which references to her alter-ego, Black Canary.
Promotional images
Edit
References
Edit