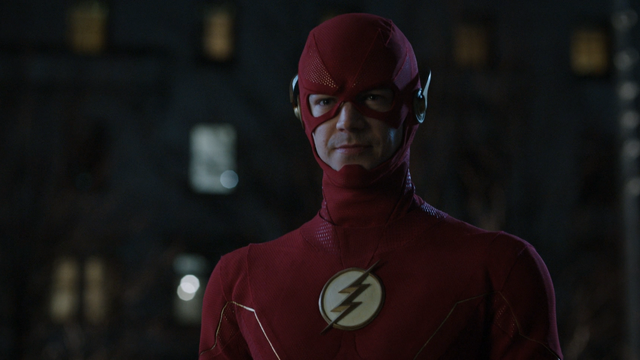 Appears on these pages

of
Bartholomew Henry "Barry"Allen (born March 14, 1989) is a former private investigator and a...

The Flash refers to several things: Series For The CW television series, see The Flash., For The...

The Flash suits are a series of protective suits designed and created by Cisco Ramon at S.T.A.R...
See full list >
File history
Click on a date/time to view the file as it appeared at that time.
Date/Time
Thumbnail
Dimensions
User
Comment
current
20:24, March 7, 2018
1,280 × 720

(1.09 MB)

Typhuss999 (Talk | contribs)
New, from Subject 9.
06:01, October 11, 2017
1,280 × 720

(563 KB)

TimeShade (Talk | contribs)
23:48, May 4, 2017
1,280 × 720

(963 KB)

MakeShift (Talk | contribs)
Reverted to version as of 20:54, April 11, 2017; the one you've updated with is way too dark compared to this
23:07, May 4, 2017
1,280 × 720

(986 KB)

UltimateTitan6th (Talk | contribs)
Sorry I keep changing it.
21:30, April 28, 2017
1,280 × 720

(1,014 KB)

UltimateTitan6th (Talk | contribs)
20:54, April 11, 2017
1,280 × 720

(963 KB)

Teen Titan of Fury (Talk | contribs)
I think this one is better, and this one is more recent. If you don't like it you can change it back.
00:04, April 11, 2017
1,280 × 720

(1.3 MB)

UltimateTitan6th (Talk | contribs)
Reverted to version as of 01:14, March 14, 2017
00:01, April 11, 2017
1,280 × 720

(963 KB)

UltimateTitan6th (Talk | contribs)
New image from Abra Kadabra.
01:14, March 14, 2017
1,280 × 720

(1.3 MB)

UltimateTitan6th (Talk | contribs)
01:35, October 19, 2016
1,280 × 720

(568 KB)

TimeShade (Talk | contribs)
19:45, October 13, 2016
1,280 × 720

(1,002 KB)

TimeShade (Talk | contribs)
previous one is better. Reverted to version as of 00:36, February 19, 2016
19:39, October 13, 2016
1,280 × 720

(451 KB)

Gamingbeaster (Talk | contribs)
00:36, February 19, 2016
1,280 × 720

(1,002 KB)

Wales8450 (Talk | contribs)
22:50, February 18, 2016
1,916 × 1,076

(1.88 MB)

Wales8450 (Talk | contribs)
06:30, December 3, 2015
1,280 × 720

(681 KB)

TimeShade (Talk | contribs)
nvm, other one doesn't look so nice on IB.
06:28, December 3, 2015
1,280 × 720

(645 KB)

TimeShade (Talk | contribs)
03:14, November 4, 2015
1,280 × 720

(856 KB)

TimeShade (Talk | contribs)
06:28, August 10, 2015
1,280 × 720

(825 KB)

MakeShift (Talk | contribs)
A real reason? The real reason is because you replace images (especially in this case with one that isn't even remotely better quality) that simply don't need to be replaced. The previous version of this was perfectly adequate. STOP.
05:39, August 10, 2015
1,280 × 720

(896 KB)

ImperiexSeed (Talk | contribs)
And don't just undo this arbitrarily.... This pic is pretty good. It's gotten exasperatingly annoying when you guys keeping undoing every picture edit I do without any real reason to back it up.
11:24, July 25, 2015
1,280 × 720

(825 KB)

MakeShift (Talk | contribs)
The purpose of uploading a new image is if it is an improvement on the old one. The old one was perfectly fine for now.
04:24, July 25, 2015
1,448 × 753

(2.57 MB)

ImperiexSeed (Talk | contribs)
01:35, July 8, 2015
1,280 × 720

(825 KB)

TheSonofNeptune (Talk | contribs)
Reverted to version as of 20:39, June 10, 2015
15:03, July 7, 2015
1,280 × 718

(894 KB)

ImperiexSeed (Talk | contribs)
20:39, June 10, 2015
1,280 × 720

(825 KB)

TimeShade (Talk | contribs)
No, we don't update images for the sake of getting a more recent one. You aren't sourcing the images at all when you update them also.
20:23, June 10, 2015
1,366 × 768

(738 KB)

ImperiexSeed (Talk | contribs)
Not clearer, brighter. There's a difference. And my image is more recent and is of better quality. And I know you're gonna say "not really," but yes, really.
09:04, June 10, 2015
1,280 × 720

(825 KB)

TimeShade (Talk | contribs)
logo is clearer
18:26, June 8, 2015
1,366 × 768

(738 KB)

ImperiexSeed (Talk | contribs)
08:04, January 28, 2015
1,280 × 720

(825 KB)

MakeShift (Talk | contribs)
A decent view of the main parts of the costume!
05:08, November 19, 2014
1,280 × 720

(769 KB)

TimeShade (Talk | contribs)
heh, this one is brighter and can see logo
03:12, November 19, 2014
1,280 × 720

(558 KB)

TimeShade (Talk | contribs)
a shot of him over the speed of sound.
05:37, October 8, 2014
1,280 × 720

(526 KB)

Wraiyf (Talk | contribs)
just changing the image size to the standard 720p, instead of a mixed size, keep future images the same also.
05:04, October 8, 2014
1,366 × 768

(665 KB)

TimeShade (Talk | contribs)
Hard to find a good one of him running.
11:13, September 10, 2014
1,617 × 1,528

(3.8 MB)

MakeShift (Talk | contribs)
Metadata