WARNING: ARROW & THE FLASH WIKI CONTAINS SPOILERS!
---

---
Around the wiki
Create blog post
Blogs
I posted this on FB after seeing Avengers: Age of Ultron …

I tell my students that the heroes their grandparents grew up with, were bringing to justice the gangster "heroes" they have today, so I'm ap…

Read more >

Stephen Amell was recently at SDCC chatting about Olicity, going back to Starling City, and creating his own version of Arrow. Read more to see what he did and didn't reveal about Season 4.

DISCLAIMER…

Read more >
See more >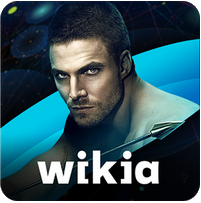 Get the Arrow & The Flash Wiki App!

The superfan's guide to Arrow and The Flash - created by fans, for fans. Wikia apps are always up-to-date with highly accurate, real-time information from Wikia's vast fan community. The Arrow and The Flash app features hundreds of pages of content created by fans just like you. Find in-depth articles on comics, television, Arrow, The Flash, villains, locations, actors and more!
DOWNLOAD NOW FOR FREE!